Sherman Industry Inc. - New York's Premier Geothermal Company * 516.655.2209
http://www.waterfurnace.com/videos.aspx?story=Secretary_Chu
Call Us Today!
1-855-4-THE-GEO
THAT'S
1-855-484-3436
& NEVER PAY FOR OIL OR GAS AGAIN!
The 4 key components to a successful Geothermal installation:
1) System Design:

The loop and the geothermal system must be sized for the home. Concentrating only on the inside equipment is a mistake made by many contractors.The loop system captures the energy, the inside mechanical system converts the energy.The size of the house will dictate the size of the equipment however the age and construction of the house will dictate the quantity of loop. Although, some houses require much more than others. The loop will last a lifetime, has no moving parts and requires no maintenance. Do not short yourself! The loop itself is fairly inexpensive to install as the technology and methods have evolved. The desired results for a high quality geothermal system is to utilize 99.9% of the geothermal energy, 365 days a year. Thomas Hancock, President of Sherman Industry, Inc., personally visits with each and every customer to answer questions, determine the feasibility of the project, provide you with a free in home energy audit, and an accurate estimate with no gimmicks. Tom treats every customer with respect and understands the complexity of making financial decisions.Thomas also, believes his job is to provide answers and solutions, not pressure to his customers. He often urges his customers to engage in as much research as possible to and educate his customers so that they are 100% comfortable with geothermal as a heating & cooling system and prove that Sherman Industry, Inc. is the right company for the job. Thomas's customers will tell you that he has a passion for perfection, is informative, patient, and respectful. Tom Hancock, conducts all estimates himself and will be happy to assist you with your geothermal heating and cooling questions.


2) Drilling and Loop Installation

New construction or existing home, does not matter we do it all. If you have a small lot, extensive plantings, mature trees, new driveway, above ground, and underground obstructions, irrigation and landscape lighting ect. . . DON'T WORRY! We have the answer. At Sherman Industry, Inc. we are fully equipped and able to handle any drilling job necessary. Our unique drilling method greatly reduces the impact on your property, construction time and unsightly excavations. Our drilling method provides superior thermal-conductivity over any other installation method without any damage to your trees and/or property. Our proprietary drilling has afforded us the privilege of being the first residential geothermal installer in the State of New York to install these systems. Our mantra is "Do the job right the first time" and we always do and always will.

3) Signature Installation

The installation of your geothermal system is provided by a team of year round/permanently employed experts. All new installations are under the direction of Terrance Hancock, Manager & Installation Supervisor. Terrance is a licensed, and certified, installer with comprehensive training and over 16 years of experience building, renovating, and servicing residential homes. All systems are put together with precision and rigorously tested before the job is finalized. Once the job is finalized, your new system will deliver uncompromised performance and greater comfort than you have previously experienced with any other system. Our 100% NO-NONSENSE Guarantee.

4) Maintenance/Service

How many times have you called a contractor only to get a voice-mail or an answering machine. Sherman Industry, Inc. has a real person answer the phone 24 hours a day, 365 days a year. We can answer any questions, provide information, or schedule service/maintenance appointments. All service and maintenance for your new system is provided by employees of Sherman Industry, Inc. Once your new system is installed, you will receive a thank you, a brief survey, and a follow up phone call. If you elect to utilize our bi-annual maintenance program, we will also schedule your maintenance appointments and give you a reminder phone call the night before we come out. Your success is ours and we want you to enjoy your geothermal system for years to come.
GEOTHERMAL FACTS:
Geothermal energy is a form of renewable energy derived from heat deep in the earth's crust.

Geothermal Energy has been around for as long as the Earth has existed. "Geo" means earth, and "thermal" means heat. So, geothermal means earth-heat.

The savings don't end with your heating and cooling bill. This system is highly reliable. Since it has no defrost cycle, there is less wear on critical components and no loss of operating efficiency. Housed indoors, the geothermal heat pump isn't subject to harsh weather conditions.

If you have allergies or asthma, a furnace won't do you any favors. But since a geothermal system doesn't require outside air for combustion, spores and pollen aren't drawn into your house during allergy season. In addition, the system runs longer than a gas furnace, so it filters the air more. And filtered air is clean air.

A geothermal heat pump lets you live in comfort. By heating and cooling in an even fashion, it eliminates hot and cold spots. And since a geothermal system doesn't generate air as hot as that from a gas furnace, your home maintains a comfortable level of humidity and temperature.

Geothermal heat pumps help minimize environmental threats posed by the burning of fossil fuels, like acid rain, air pollution, and the greenhouse effect. And because the system has no outdoor components, it won't add to noise pollution. In fact, you won't even be able to tell when it's on.

In Iceland, geothermal heating is used to heat 87% of all homes. Icelanders plan to be 100% non-fossil fuel in the near future.

Geothermal energy is called a renewable energy source because the water is replenished by rainfall, and the heat is continuously produced by the sun.

With a geothermal system your hot water is virtually free in the summer as excess hot water is extracted from your home.

Geothermal heating is a method of heating and cooling a building. It takes advantage of the natural stable warmth stored in the earth. Geothermal heating is flame-less, therefore producing no health and safety concerns as associated with fossil fuels.
We are available for any questions you might have from
9:30am to 9:00pm Monday thru Friday.
or
To schedule an in home FREE energy audit sponsored by NEW YORK STATE & find out exactly how much a Geothermal system costs in your home then call today: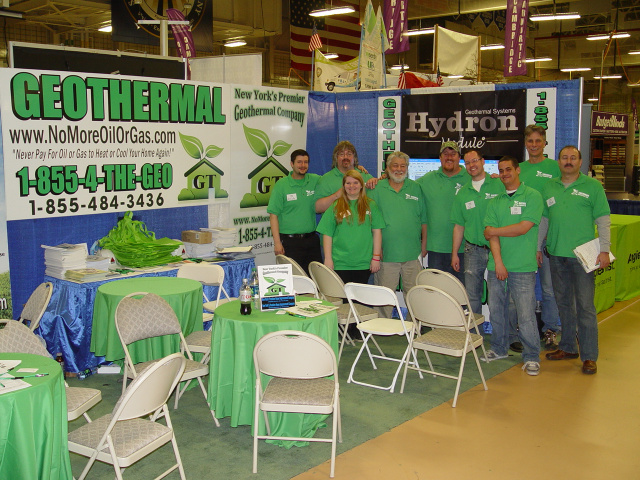 CLICK ON BANNERS TO VISIT EACH ONLINE MAGAZINE - SOME ARE IN THE CONSTRUCTION PHASE AND WILL BE ONLINE SOON
© Copyright 2016 All Photos by Ed and Wayne from The Long Island Web / Website Designed and Managed by Clubhouse2000
* Long Island Home Magazine is an online resource for events, information, opinionated material, and links to the content of other websites and social media and cannot be held responsible for their content in any way, but will attempt to monitor content not suitable for our visitors. Some content may not be suitable for children without supervision from an adult. Mature visitors are more than welcome. Articles by the Editor will be opinions from an independent voice who believes the U.S. Constitution is our sacred document that insures our Inalienable Rights to Liberty and Freedom.
Disclaimer: The Advertisers and Resources found on this website may or may not agree with the political views of the editor and should not be held responsible for the views of Long Island Home Magazine or its affiliates. Long Island Home Magazine was created to promote, advertise, and market all businesses in the Home Industry regardless of their political affiliation.